Many tropical destinations are overrun with tourists, overpriced, or both. Bali is neither. Bali is the most popular island in the Indonesian archipelago and is one of the most incredible destinations on the planet. Not to mention, it's easy to travel Bali on a budget for couples and single travellers alike!
Bali on a Budget – The Best Luxury Destination
We have literally never been somewhere in the world where we felt as if we were getting a better value for our dollar. You not only have incredible purchasing power in Bali ($1 = about 14,000 IDR), but you also get quality products and services.
Whether you're planning a honeymoon or simply a romantic getaway, Bali is the perfect place for couples travel
Affordable Accommodation in Bali
Imagine a beautiful island where goods and services are very affordable. As one might expect, this means that everything from guest houses to 5-star resorts are built for luxury and at a fraction of the cost they would incur in a place like Hawaii
You can find beautiful home-stays with pools and gorgeous gardens with hospitality to rival the islands' best resorts. Most of the good home stays also include breakfast and provide for your room to be cleaned and restocked with toiletries on a daily basis.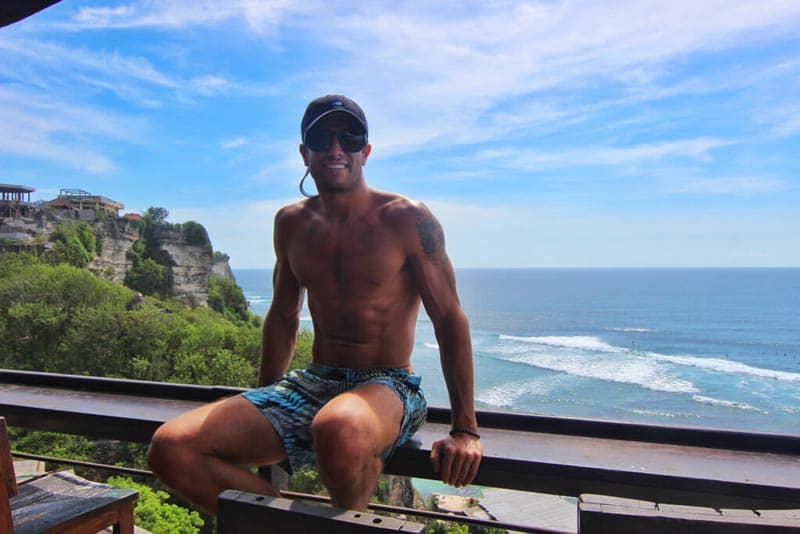 If you've been reading Couple's Coordinates for a while now then you're familiar with our love of Airbnb. However, in Bali, we prefer guest houses and resorts.
FYI, our favorite guest houses ranged from $30-50/night. If you stay in Sanur, be sure to check out Kolonial House, this is where we spent a good majority of our time in Bali.
Cheap Massages and Spa Treatments in Bali
In the US you'll generally spend about $75-150/hour for a half-way decent massage. This used to be normal for us, but now we have a very, very hard time paying for more than a Chinese foot massage/Thai massage.
In Bali you can go to a luxury spa and get 90 minute couples massage for $13 each. You'll even enjoy essential oils at no additional cost and delicious tea following your massage.
Our favorite spot is located in Sanur and is called Leha Leha. This place literally gives some of the best massages we have ever had in our lives. If you happen to be in that area, definitely check it out! Your body will thank you.
Affordable outdoor activities
Always wanted to surf but never wanted to pay the hundreds of dollars for a board and lessons? Fear not, in Bali you can rent a board and your very own teacher for around $10 an hour. Surfing together in Bali is one of our fondest memories together.
Pretty much every beach in Bali with good surf will also offer simple board rental for about 50k IDR – 100k IDR or about $3.50 – $7.00. A bit of advice – if you can rent "booties" as well, do so. Bali's reef is beautiful for snorkeling and scuba diving, but it is also very sharp.
Date nights – Dates on a Budget in Bali
Back home we go out to eat very sparingly as we are always saving money for our next adventure. Well, in Bali, eating out can cost as little as $2 per meal!
Sure, restaurants at 5-star resorts are comparable to restaurants in the States. However, local cuisine is super affordable and wonderfully delicious. Even the touristy restaurants in town shouldn't cost more than $10/person.
We would typically spend about $10-15/night for a dinner date at one of our favorite restaurants.
Just about every village has awesome restaurants that line the beaches, so you have tons of delicious romantic options.
Royal Treatment on a Budget
The Balinese people are the most benevolent, friendly, and hospitable people we have found on the planet. This goes for just about everyone on the island and of course for individuals in positions of service.
Whether it is the aforementioned massages or simply a server in a restaurant, the people treat you like royalty.
You'll make an incredible amount of friends and will feel as if you and your partner are royalty as you are hosted by the wonderful people of Bali.
Culture
This is a bit of a follow-on to the hospitality of the people. 97% of the Balinese people are Hindu and the people are very adamant and devout in their religion. You can attend religious celebrations/ceremonies/festivals on a weekly basis for FREE and can have an incredible cultural experience.
The awe-inspiring Hindu culture are easily understood through the Balinese people's aim of living life in accordance with the four main goals of human life: Dharma, Samsara, Karma, and Moksha. You'll love experiencing their culture with your partner!
Bali is fairly accessible
For being a small island positioned in the middle of the Indian Ocean, Bali is actually fairly accessible. If you fly into Singapore or Tokyo, you'll be able to reach Bali fairly easily.
It's going to be a long haul from the US, but flights from Singapore are super cheap and flights from Tokyo aren't bad; especially if you're leveraging miles. Taxes on reward flights from Bali are also very affordable.
We redeemed Delta miles to travel from Bali to Tokyo on our way back to the States and paid only about $20 in taxes per passenger.
If you fly into Singapore, you'll be able to catch a 2.5 hour flight to Bali for only about $100. So think big picture, especially if you're traveling on a budget.
Don't only look at your final destinations' airport, think about more major cities in the region – this is a great way to save a great bit of money on flights.